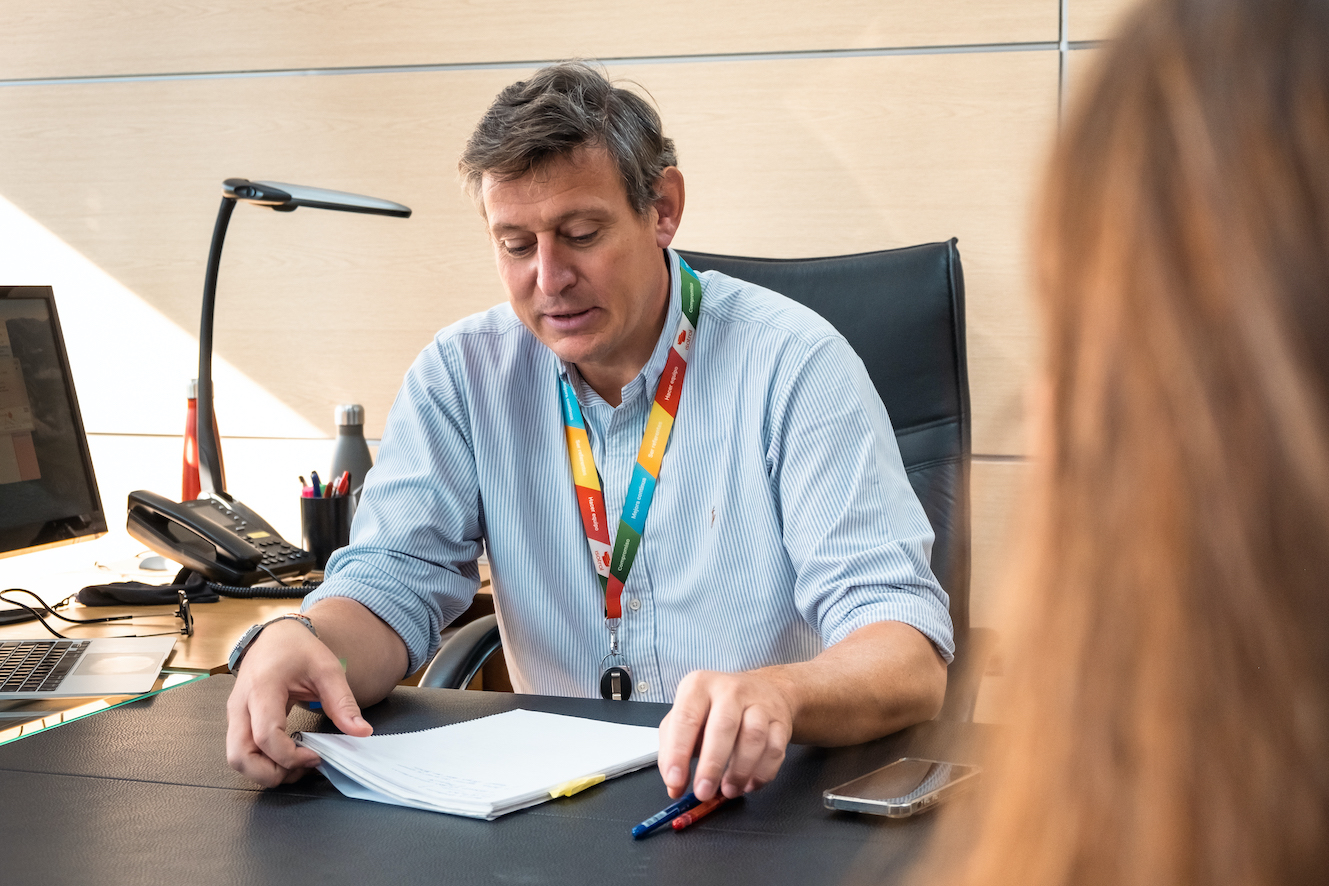 From Energy Capital The Magazine
Isotrol is a top technology developer with specialized and tailored solutions for the energy sector. Since 1984 it has been a pioneer of monitoring, system controls, and digitalization technologies. The company recently announced it surpassed the 110-gigawatts milestone, having deployed its solutions to more than 450 power plants in 2021 alone.
Such growth is critical for the advancement of the energy transition. Indeed, Isotrol is not just a technology provider but a technology partner. As the company's solutions go deeper into the industry, reaching renewable generation assets and now delivering them to the O&G utilities that are entering in the renewable market, the company has become a true leader with a consolidated position in the US, Europe, and Latin America.
To speak about how it crossed the 110 GW threshold and its success story, Manuel Losada, Chief Operating Officer of the company, sat with us on an exclusive interview to shed light upon the matter.
Isotrol's strategy to advance the energy transition
Energy Capital: Can you tell us please how Isotrol crossed the 110 Gigawatts threshold?
Manuel Losada: It is the consequence of many years of work. We have been in the market for more than 37 years so far, and we have been working basically with energy utilities. For the last 20 years, we have been working on renewable energy assets and working with new energies. We have introduced that knowledge into our Bluence platform, which is handling what we call Three Pillars to sustain energy transition. One pillar focuses on managing renewable energy assets, controlling them, gathering data, and getting the most of the assets through efficiency. The second pillar is how to integrate the energy into the grid. The 'grid integration' pillar is critical, as we need to make sure that the power is being introduced properly. The third pillar is the trading part, how to make the most of the energy. This is something we solve using complex algorithms and through artificial intelligence. Today we have about 64 GW in renewable assets and more than 60 so far in the energy trading part.
Isotrol has deployed its technology across more than 2500 power plants
EC: It's truly amazing. So, Isotrol has implemented its technology across more than 2500 power plants, right? So, can you tell us the expansion plans for Isotrol over the next few years?
ML: Sure. The market is growing a lot. Today we will say that 25% of the energy generation in the world is coming from renewable energies. However, this value will see a threefold increase by 2050. So, we will reach more than 86% of the energy generation coming from renewable sources. This is just a consequence of different factors.
As you know the cities are now much more crowded. You need to decarbonize those cities, and the answer for that is renewables. Consequently, electrification is also a main factor. Today, worldwide renewables are about 1500 GW, and this will grow fast in 10 years. So, our plans for the future are to help our customers to manage these changes in consuming energy.
Bluence, not only an IT tool, but a solution
EC: As you said, the industry is changing a lot, and the energy transition is a fact that requires many changes. So, with the help of solutions such as the ones Isotrol offers, the panorama will be very different. In this regard, can you tell us about the specific services or developments that Isotrol offers for the renewable energy industry?
ML: Bluence is a platform that offers help in precisely managing the changes of the energy transition. When so many new generation plants are installed in a region, you have to manage them. Consequently, digitalization technologies are a must. I always like to take this example: if you want to generate the energy of a nuclear plant with renewable energies, you will need several plants, which means many more sensors to monitor and therefore a huge amount of data to process, when at the same time you need to be more efficient reducing the number of people to operate the plants. Without the proper tools, you will not be able to achieve that. So, you need a system to know exactly what is going on with the plants and the assets; a system that delivers hints to the operators, so they know what they need to do to improve efficiency, get the most of the assets, and make the operational work much safer and easier, allowing operators to handle many more power plants.
More than IT providers: technology partners
EC: Can you tell us about the accompaniment process that Isotrol offers to its customers and the technology involved front-end?
ML: In Isotrol we like to think of ourselves as technological partners rather than IT providers. In fact, Isotrol stands for (in Spanish) Engineering software and control. So, we know how to integrate data, communicate with different devices in any plant, and process that data into valuable information. Moreover our customers business is also evolving, and they need solutions that can adapt to new requirements. This is something that we understood. Customers do not only need peer products. That's why we like to call Bluence not a product but a solution. We adapt Bluence to our customers' needs, processes, future needs, etcetera. We deeply understand our customer's particular needs, the business they are involved in, and we help them under such conditions.
Power utilities and oil and gas utilities, similar animals
EC: In regards to evolution. We know that the oil and gas industry is rapidly adapting to the energy transition. Can you talk a little about the solutions that you offer for this sector?
ML: Yes. O&G utilities and electric utilities have similar backgrounds. O&G utilities are now entering in the Renewable Energy market. In fact, in ten years they are going to have more than 10% market share. Today they are in 0,5% of market share. But, the kind of needs are very similar when we speak about IT platforms they need to manage renewable energies. In this regard, I think they are doing their job pretty well. Now they know exactly what developments are needed to transform their assets from traditional sources to cleaner ones. So, we see a great future with O&G utilities, electric utilities and YieldCos.
Finally, I think for the following years is going to be critical to treating data as another asset. Also, the investment to implement our solutions is even less than 1% of the total cost of a plant. However, the benefits are plentiful. Through solutions like the ones, we offer operators can get the most out of the assets for the next 20 or 30 years. So, for us, the future is really bright. We are delighted with our outlook for the future.
Comments are closed.